What makes Southern Surrogacy unique is that we believe that the relationship between the intended parents and the surrogate is critical to the success of the journey, and that is why we are dedicated to helping intended parents and surrogates from the South find their match.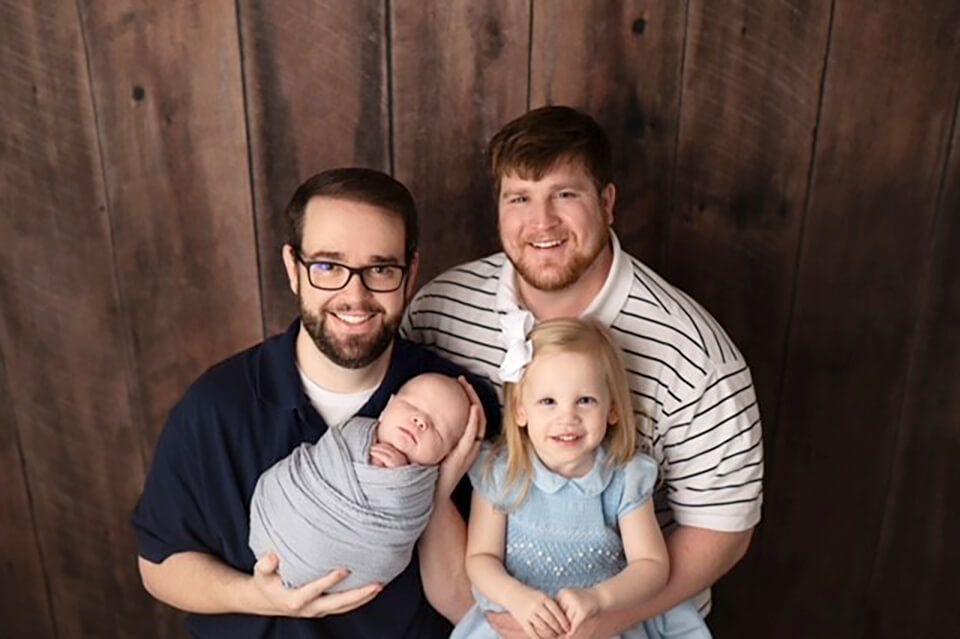 Why Southern Surrogacy is Different
Surrogacy is becoming increasingly popular in southern regions of the U.S. This form of assisted reproduction technology (ART) is considered legally, ethically, and medically complex. That's where Southern Surrogacy comes in. Our founders have over 40 years of combined experience in the legalities of ART.
We are a comprehensive, full-service surrogacy program serving Georgia, Tennessee, South and North Carolina, and Alabama. Our friendly, knowledgeable case managers and surrogacy professionals are ready to assist intended parents (IPs) and potential surrogates through the entire surrogacy process from beginning to end. What differentiates us most from other Southern surrogacy agencies is that we are a local organization, providing hands-on, personal service combined with deep knowledge of the legalities of surrogacy in each of our partner state locations.
Personalized Attention and Support
Southern Surrogacy offers our IPs and surrogates a high level of expertise and personalized attention; this is true of any of our services, from giving support to providing resources. We strive to provide as much in-person interaction as possible, particularly between our staff, intended parents, and surrogacy candidates.
During the surrogacy matching process, most agencies simply arrange a phone call or video chat session between new IPs and surrogate candidates. Southern Surrogacy goes a step further and offers to accompany all parties in a face-to-face match meeting. Our goal is to ensure that everyone is comfortable and receives the support they need during the matching process and in each step of the surrogacy process.
Southern Hospitality and Community
Surrogacy is not simply a business transaction, but rather, it's a family-building journey that includes many moving parts, such as its legal, medical, and relationship-building aspects; each piece must work in unison with each other for a successful outcome. Forming connections like those between a surrogate and IPs is challenging when the only contact is via a text, email, or video chat screen. We focus on creating a supportive community via relationship building; this is the cornerstone of our personalized service at Southern Surrogacy.
Legal Expertise
Selecting a surrogacy agency that is knowledgeable about your state's surrogacy laws is a wise decision. Surrogacy laws are complex, varied, and always subject to change, particularly in states without specific surrogacy legislation. Intended parents considering surrogacy are often concerned about changes in assisted reproduction laws and legal processes. However, when you work with a law firm-owned surrogacy agency, you can rest assured that your surrogacy team is always aware of the most up-to-date information.
Even when it comes to the non-legal aspects of the surrogacy process – such as medical procedures – a law firm-owned program keeps legalities at the forefront of its thinking and allows this philosophy to drive its action. Learn more about surrogacy laws in the South, as well as the benefits of working with a law-firm-owned surrogacy agency.
Collaboration with Medical Facilities in the South
Southern Surrogacy has established relationships with the most advanced medical facilities and reproductive care services in the Southern U.S. region. Our role involves connecting intended parents and surrogates with these professionals and services in their local geographic areas.
Not only does networking with these professionals benefit our IPs and surrogates, but it also allows Southern Surrogacy to proactively stay informed and effectively navigate any potential factors currently shaping the surrogacy landscape. For example, we have extensive knowledge of the precise surrogacy requirements of each fertility clinic within our referral network, such as age and BMI requirements. We also create our candidacy screening parameters based on the information we gather. Our meticulous approach translates to more successful outcomes for all parties.
Transparency and Ethics
Southern Surrogacy is committed to providing the highest ethical standards to our clients; this includes maintaining clear communication and transparency with our IPs and surrogates throughout the surrogacy process. From the initial consultation through the baby's delivery, you can depend on us to provide unbiased information to help you make empowered decisions at every turn.
Resources for Every Step of the Surrogacy Journey
We refer our clients to the most trusted local medical, legal, financial, and support professionals whenever additional surrogacy services are needed. Working with our extensive network, we enhance efficiency across every step of the surrogacy journey by facilitating seamless communication and coordinated services. As a result, your surrogacy journey will be more streamlined, allowing you to focus on what's most important, like getting to know your gestational surrogate and preparing for your new baby!
See What Sets Southern Surrogacy Apart
Choosing a surrogacy agency specializing in legal expertise, family-building relationships, and personalized, hands-on service is a sound decision. Learn more about how to become a surrogate or take the first step by scheduling an initial consultation.