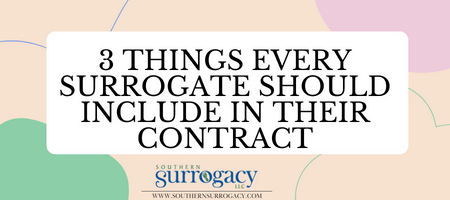 When a Surrogate matches with Intended Parents, there's an overwhelming feeling of excitement. At first, you  might think about the gift you're able to give to this family, and all the hope you are inspiring to others. It's hard not get all caught up in the happiness of it all. But it's important to make sure you're covered for any possible situation that may arise. Yes, be excited and enjoy, but make sure you're also protected. 
This is where your Surrogacy Contract comes into play. This contract is a legally binding contract between you and your Intended Parents. Your Lawyer will review the contract on your behalf, and talk to you through all the items that should be included (or changed)
Today, we want to discuss 3 of the most important things that should be included in your contract:
Insurance that is Surrogacy Friendly
Having Insurance that is Surrogacy friendly should include coverage for prenatal care and delivery during your pregnancy. It should also include any out-of-pocket costs for medical reasons. You also want to make sure your insurance is reviewed again during any open-enrollment periods, or change in employment, to ensure no exclusions have been added. If your insurance has an exclusion for Surrogacy, then a new Surrogacy-friendly policy will need to be purchased and your Intended Parents will be responsible for the premiums, deductibles, and co-pays for the new insurance.
Outline clear expectations on Termination or Selective Reduction of Pregnancy
You want to make sure both you and your Intended Parents have the same view points regarding termination or selective reduction of a pregnancy, and that those expectations are written clearly in your contract. Your contract should include information that track the laws in the surrogate's state and where the surrogate gives birth.
All expenses are outlined and covered by Intended Parents
During pregnancy, a lot of extra expenses could arise. These expenses should be paid for by your Intended Parents and should be written in your contract.
Expenses could include (but are not limited to):
Travel Expenses
Maternity Clothes
Co pays, deductibles or out of pocket payments
Life insurance
Lost wages during Pregnancy
Childcare and Housekeeping if you go on bed rest
Incidental Expenses of any kind
Every pregnancy is different, and while the needs of each Surrogate are not the same, they all require one thing-Protection. Your contract is meant to protect you, your Intended Parents, and the Pregnancy. Take your time reviewing your contract, and never hesitate to ask questions or ask for clarification.