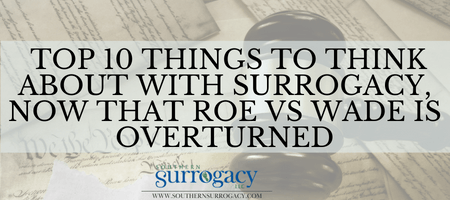 The Supreme Courts decision of overturning "Roe vs Wade" has left many in the Surrogacy world confused, concerned, and uncomfortable. We want our Intended Parents, and Surrogates to know that we understand your frustrations, and we are here to assist you in any way we can.
It's important to understand that each state has its own Surrogacy Laws. As we learn more information about the changes in laws for the states that we work with, we will share those changes with you. But, no matter what state you live in, there are certain things you can think about and consider before you starting your Surrogacy Journey.
It is important to understand the laws surrounding abortion in the Surrogate's state, and the state where the embryos are located, before starting your surrogacy journey. It is key to have an experienced fertility attorney (not a family law attorney) in the state that the Surrogate will be giving birth in, to advise you on the impact of the laws on your surrogacy journey. One place to look for an experienced attorney is adoptionart.org
The wait times to be matched with a Surrogate may be longer. More women may be concerned with the impact on the overturning of Roe v. Wade and thus may not be willing to be a Surrogate. Also, COVID has made an impact on matching wait times, due to Fertility Clinic protocols and new requirements reflecting those protocols.
Intended Parents and Surrogates should have the same views regarding abortion and selective reduction.
At the heart of a surrogacy journey is trust between the Intended Parents and the Surrogate! So it is imperative that Intended Parents and Surrogates have open communication and trust each other throughout the process.
Discuss with the Surrogate whether she would be willing to travel to another state if her home state didn't allow for an abortion, and is this permitted by her state's laws. Intended Parents may be responsible for the travel and medical expenses related to the Surrogate going out of state for an abortion.
Parties need to know whether a Surrogate's insurance will cover the cost of an abortion and if it will be covered if she goes out of state for an abortion.
Intended Parents may want to consider having their embryos genetically tested and/or themselves genetically tested to understand the likelihood for a healthy baby.
Intended Parents should discuss with their doctor what genetic conditions can't be tested, so they are educated on conditions that could arise.
Intended Parents need to understand the laws of the state where their embryos are located to determine their rights regarding how they want to handle any remaining embryos after they have finished building their family.
VOTE!!! It is vitally important to vote so that your voice is heard regarding surrogacy, abortion and your embryos!
We hope this list gives you some important things to think about, and encourages some peace of mind as you navigate Surrogacy during this historical time.
Remember, we are all in this together. Ask questions, and communicate your concerns with all parties involved in your Surrogacy Journey.